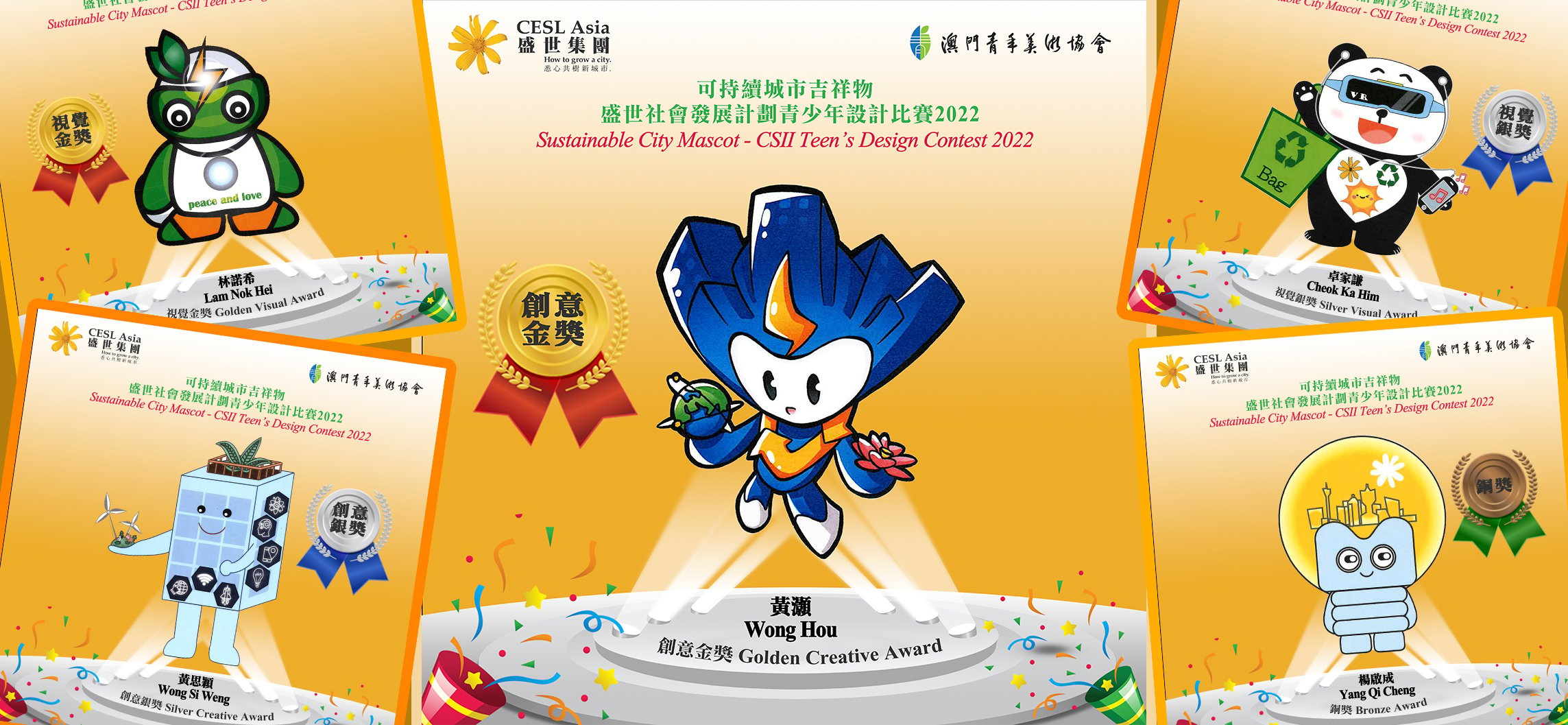 CESL Asia is partnering with Macau Youth Art Association to organize the "Sustainable City Mascot Teen's Design Contest 2022". This event is part of CESL Asia Social Investment Initiative and aims to get students thinking about how to grow a more sustainable city and society, the values that guide sustainable development and the initiatives, projects and technologies that help design a city model that is ideal for the lifestyles of the future generation.
Macau students aged 12 to 17 are welcomed to participate, by submitting a design of an original Mascot that personifies what a sustainable city represents and could become its ambassador. The contest will be open for enrollment from April 27th to June 06th 2022.
Owing to the vision of creating better environmental, social and economic conditions and enhancing Macau's attractiveness and the competitiveness of its communities has been at the heart of CESL Asia business activity. Both its Critical Facilities for Architecture and Engineering Consultancy and its Management Services actively promote the implementation of environmentally friendly solutions in assets and operations. This vision is also present in its investment strategy in renewable energy, sustainable agriculture and food.
Mr. Antonio Trindade, President and CEO of CESL Asia hopes "this contest encourages critical thinking and leads students to explore the key concepts that guide the urban planning and lifestyle of the most sustainable cities and including concepts such as Business Diversification, Eco-Innovation, Smart Solutions with Technology and Eco-Friendly, Renewable Energy, Inclusion and Sustainable Agriculture and Food to design a creative and inspiring mascot based on this knowledge".
CESL Asia Social Investment Initiative programs are more impactful because of the support of the company' employees, the community and our business associates. In this initiative we would like to extend our sincere gratitude to Banco Comercial de Macau, Banco Nacional Ultramarino, Banco Tai Fung, CCK, McDonald's Macau, MGM and PricewaterhouseCoopers (prizes sponsors) and to University of Saint Joseph (award ceremony sponsor), as well as, to our media partners Jornal Tribuna de Macau and Macau Daily Times, which are all actively contributing to making this project an inspiring moment for Macau's teens.