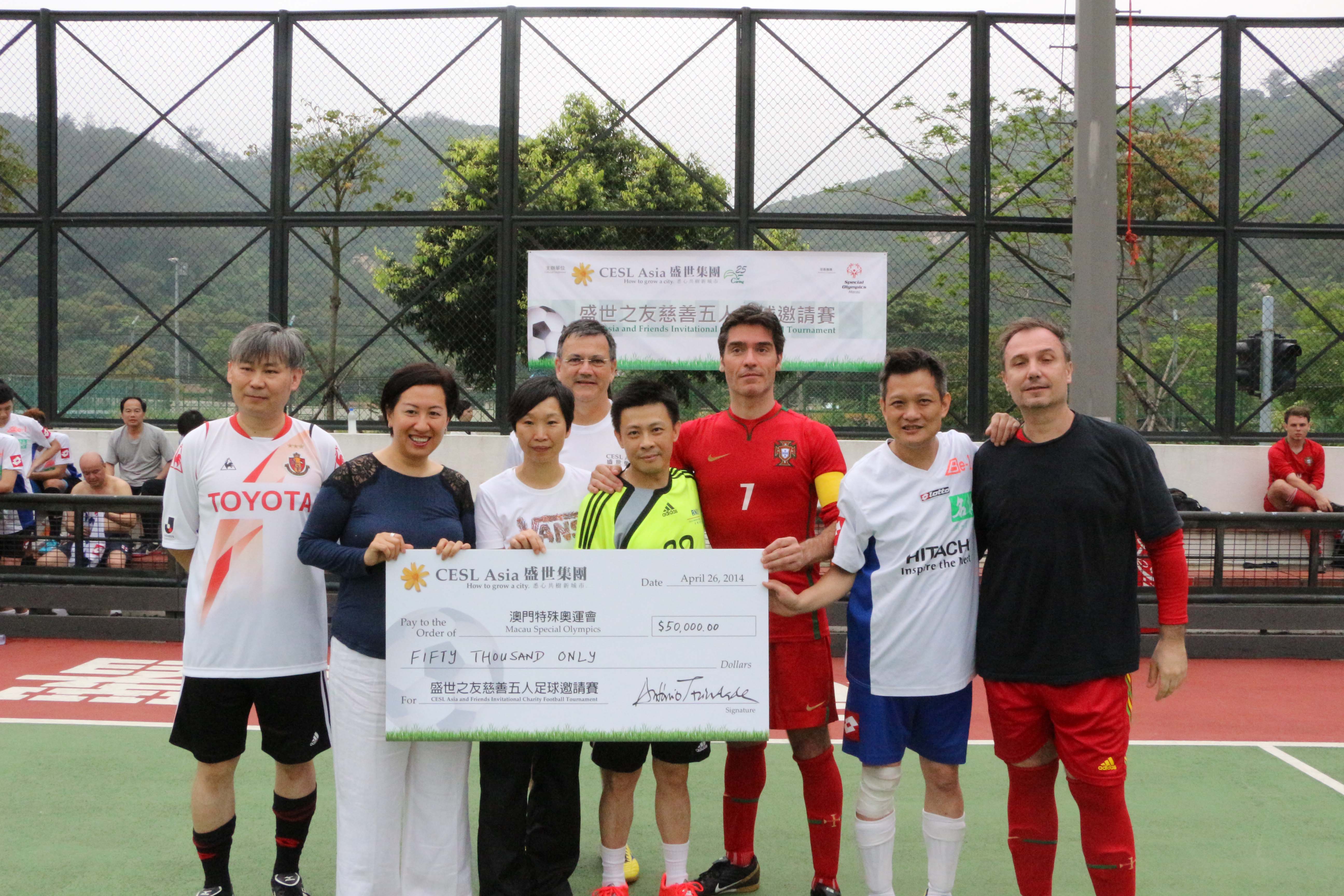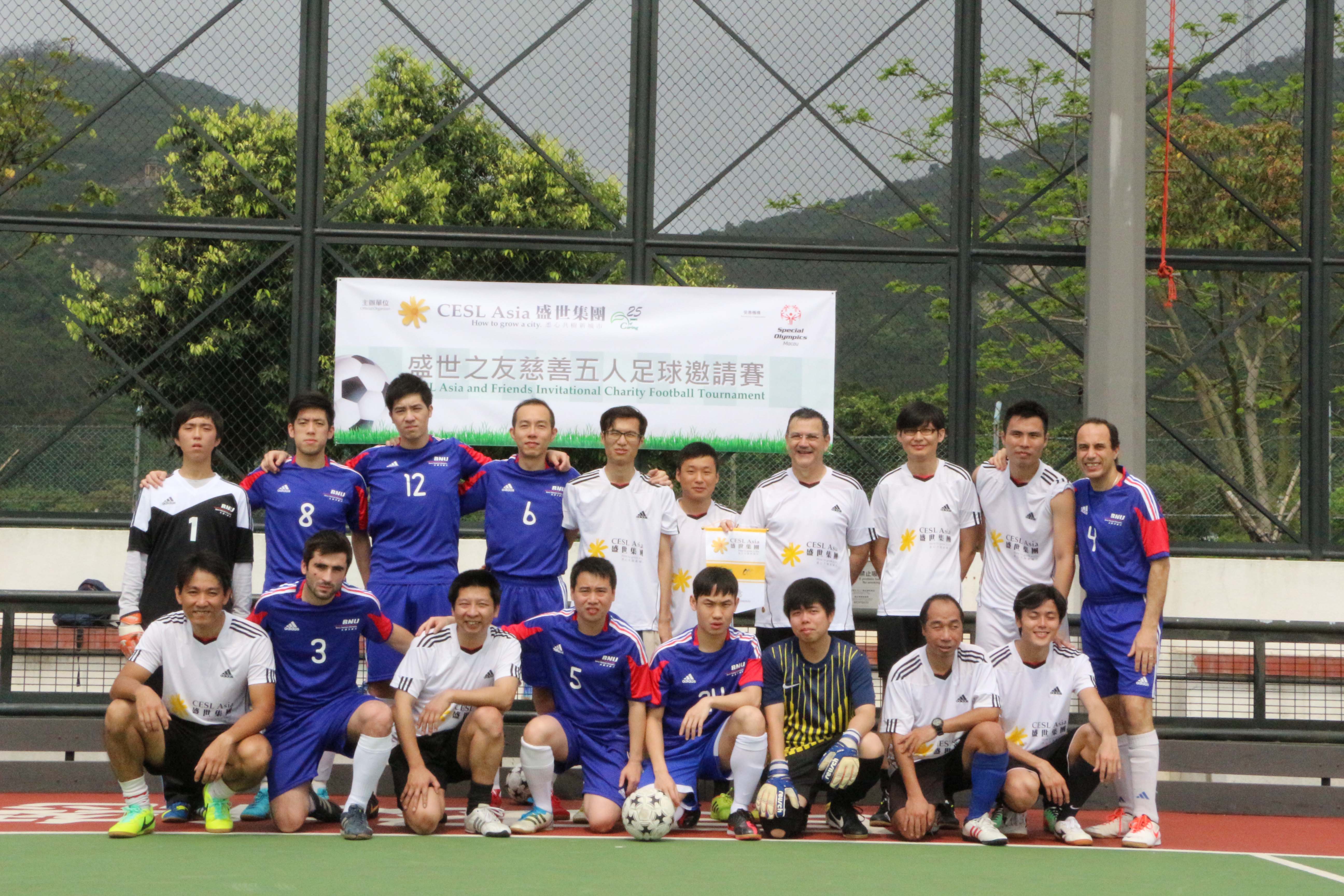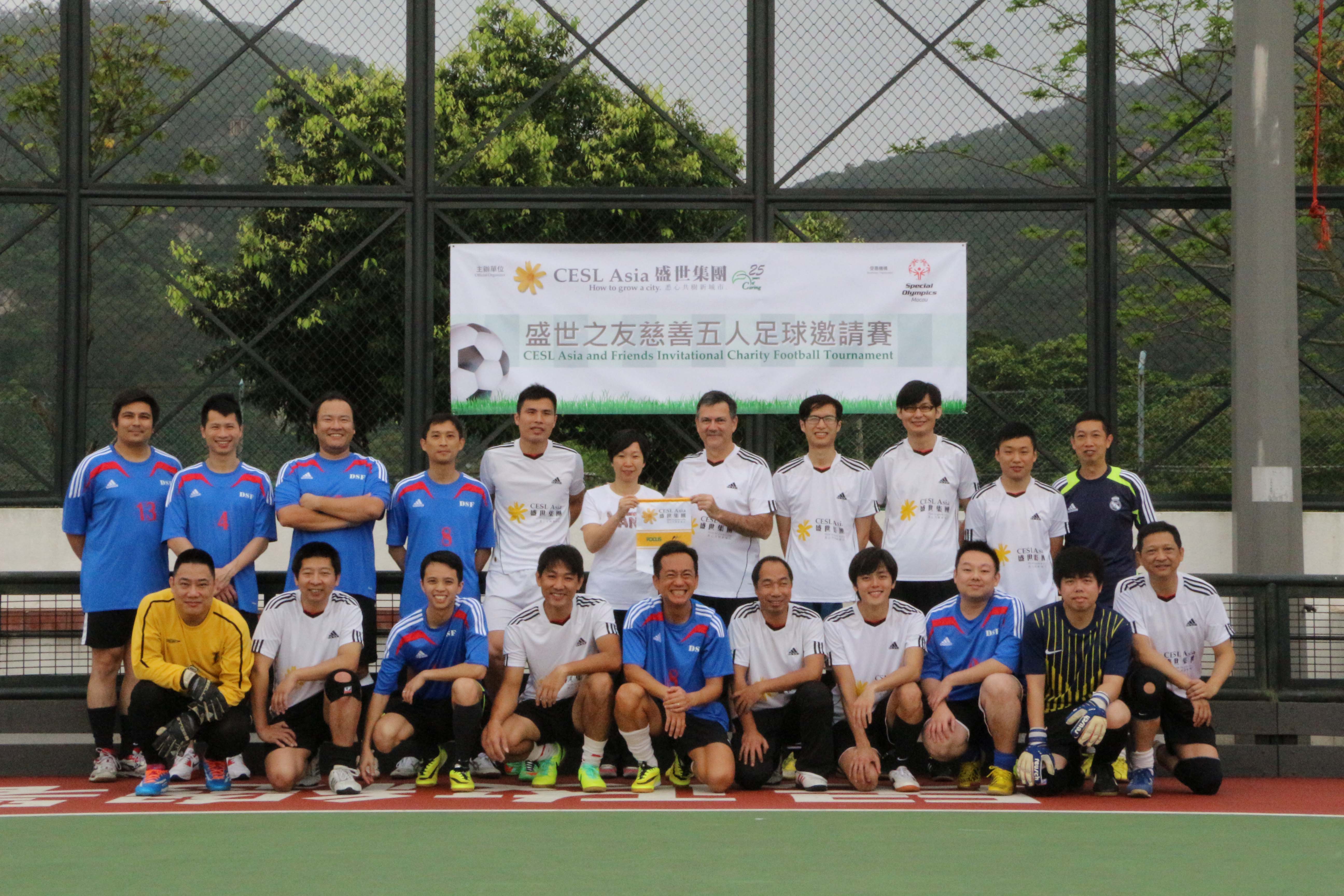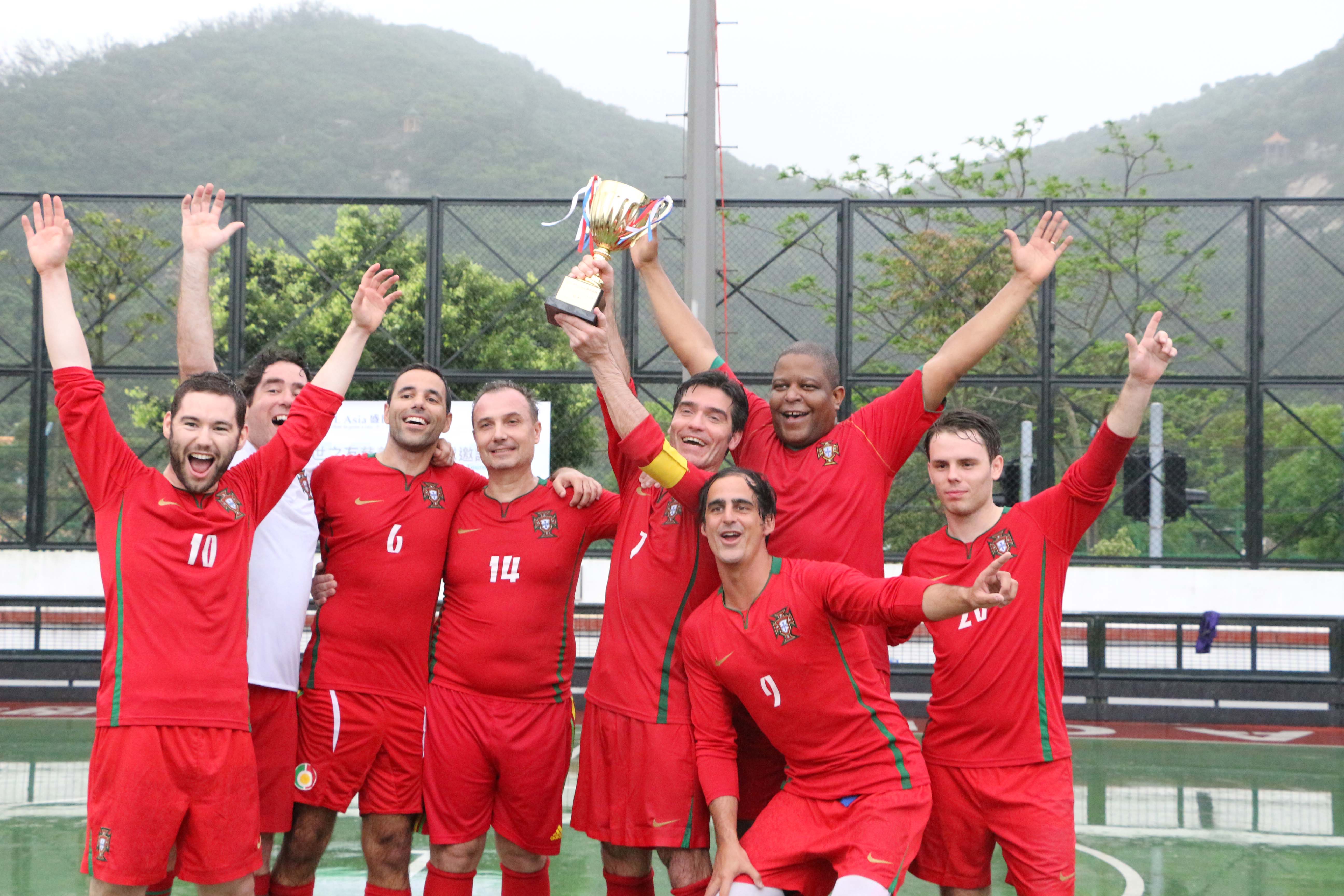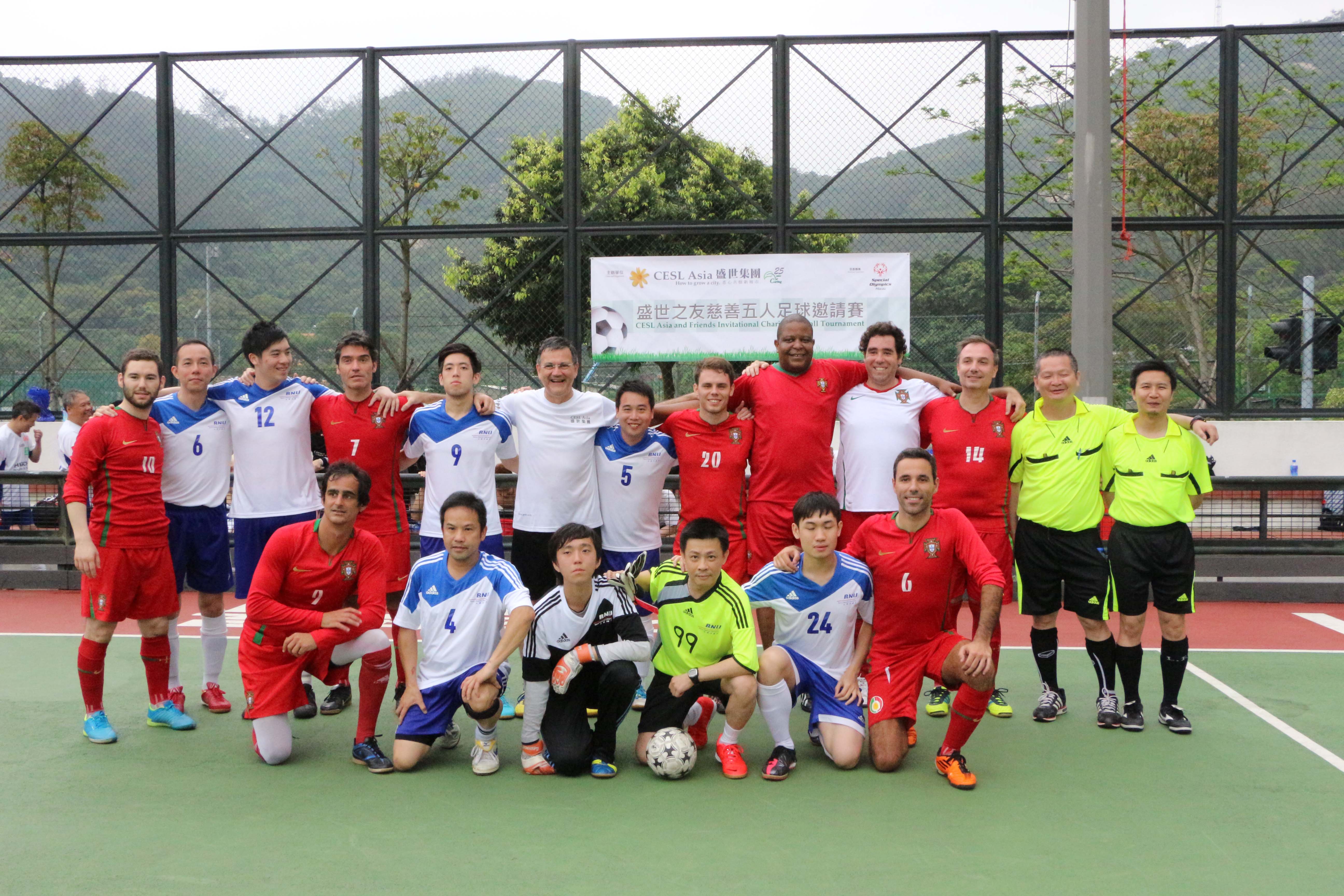 Macau, 28 April 2014 – 'CESL Asia and Friends Invitational Charity Football Tournament' was successfully held at Hac Sa Park football field on 26 April, with a total of six participating units including Financial Services Bureau, Banco Nacional Ultramarino, Be-1, Consulate-General of Portugal in Macau and Hong Kong, Administration of Airports Ltd and CESL Asia. The Tournament was generously sponsored by Macau Coca-Cola Beverage Co. Ltd. and assisted by the student volunteers from Cheng Yu Tung College of University of Macau. All the above units made the charitable event possible.
After several rounds of fierce competition, the championship went to Consulate-General of Portugal in Macau and Hong Kong. The tournament raised a total of MOP 50,000. Mr. Antonio Trindade, the President & CEO of CESL Asia was honoured to present a check to Mr. Hetzer Siu, the CEO of the Macao Special Olympics.
The objective of the charitable tournament is to raise funds for the 'Sensory Integration Treatment Plan' of Macau Special Olympics and, at the same time, to draw the attention of different sectors in Macau to local disadvantaged children. The treatment plan helps children with developmental delay, attention deficits, autism, hyperactivity, dyslexia, and other special educational needs. In accordance with the individual needs of children, the treatment plan can provide tailor-make assessments and trainings, which aim to improve self-care, social adaption and learning abilities. The treatment and assessment items include enhancing small muscles, visual spatial concepts, social skills, and motor sensory integration skills, among other things.
CESL Asia wishes to connect with other renowned organizations which share the company's interest in caring for the underprivileged in society. CESL Asia encourages employees to
participate in sports events not only for their own health benefits, but also for the opportunity to connect with those with intellectual disabilities by expressing acceptance and promoting equality. Such acts reflect CESL's corporate social responsibility and help intellectually disabled individuals integrate into our community.