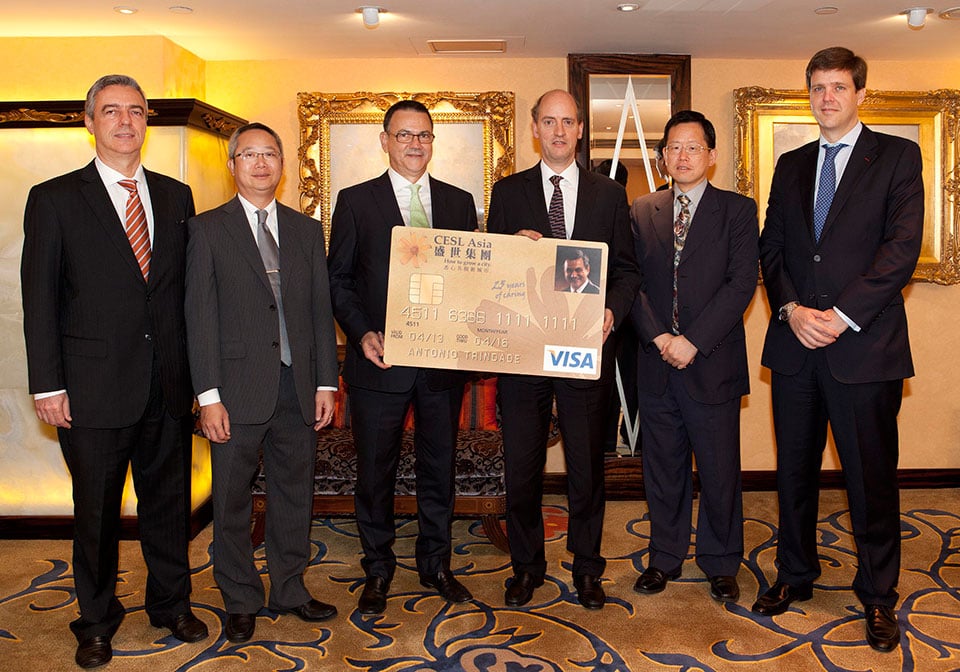 Macau, 2 May 2013 – CESL Asia Investments & Services Limited is celebrating this year its 25th anniversary, a significant accomplishment that the company wishes to make meaningful by promoting several initiatives to distinguish the remarkable achievements of the company's team in the past 25 years.
In this occasion of the CESL Asia's Staff Card launch, the President and CEO of CESL Asia, Mr. Antonio Trindade announced; "We wanted to do more and better and provide a wider range of fringe benefits to our staff. We knew that we had to be creative and persuasive to find partners to make this multipurpose card distinctive from what is already commonly offered by other employers and by other credit cards available in the market. We knocked on several doors, discussed several options and, after months of joint work, CESL Asia and BNU are now offering this card to CESL Asia staff. This is a Staff Card that doubles as a Credit Card and will offer a range of benefits that are not universally accessible to our staff."
"We are creating the best solution available to us to compete in the market where larger employers are able to offer attractive discounts on services that such companies already market as part of their business. We are loading this card not only with very attractive credit facilities and other financial services provided by BNU, but also with the best offers and discounts from local suppliers of services and products that our staff will require when looking for a loan to finance a family investment or when doing their purchases for useful things of everyday life", added CESL Asia's CEO.  
Furthermore, in keeping with their established credentials as farsighted and caring companies, BNU offered to donate a proportion of the income generated from the card sales to CESL Asia Social Investment Fund (CSI). "These amounts will be invested in projects related with the youth, the poor and the needy in Macau and on this basis we can work together to foster social development," Mr. Antonio Trindade explained.    
With recognized success CESL Asia has contributed in the past 25 years, to the sustainable development of Macau and have been devoted to grow a better city along with its citizens since 1987, encouraging collaborative, progressive mind set and diversity as a way to do better, with integrity, every day.