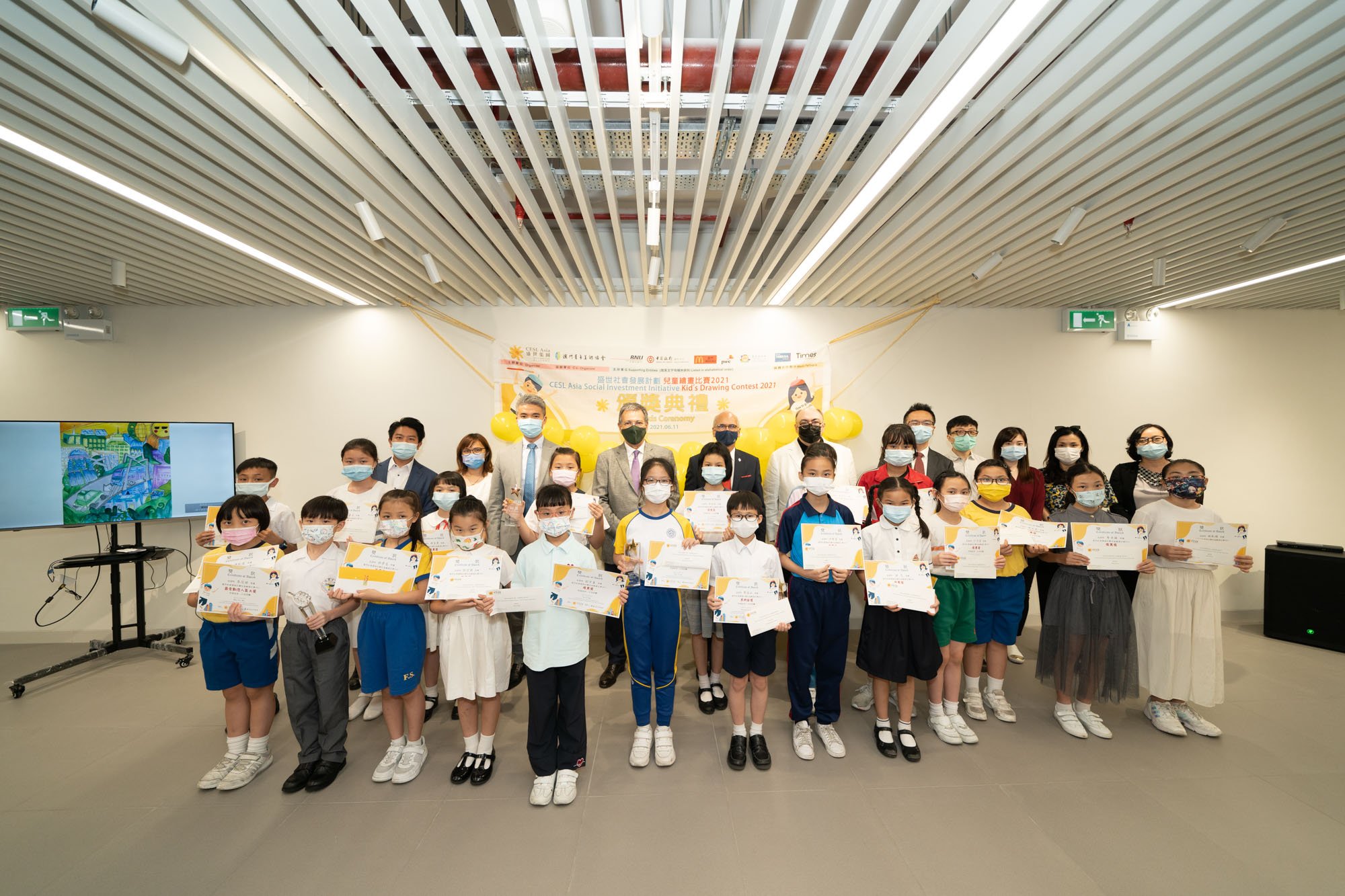 CESL Asia and the Macau Youth Art Association co-organized the "CESL Asia Social Investment Initiative (CSII) Kid's Drawing Contest 2021" themed "Our Sustainable City".
The competition invited Macao students aged 8 to 12 to share their creative visions about what is a sustainable, environmentally and people' friendly city and over one hundred high-quality artworks were submitted.
The awards ceremony took place at St. Joseph University Gallery on 11th June. On this occasion, Mr. Antonio Trindade, President and CEO of CESL Asia said: "We organized this drawing contest to inspire our city's next generation to learn about Sustainable Development as we consider of the highest importance it is better prepared to participate in growing Macao's economic and socially sustainable future. We were very happy to see in all the artworks the strong commitment of this younger generation towards sustainability and the desire of higher quality of life."
The artworks were evaluated by a jury composed by Mr. Lei Ieng Wai (Vice President), Mr. Lai Sio Kit (Director General), Ms. Julia Lam (Secretary General) and Ms. Wing Pun (Committee Council) from the Macau Youth Art Association. The four judges unanimously agreed "the drawings were very creative and showcased the students' wonderful artistic skills and their motivation to live in a greener, healthier and happier city".
"CESL Asia Social Investment Initiative (CSII) Kid's Drawing Contest 2021" happy winners were: Most Creative Award Chan Si Lam (Escola Choi Nong Chi Tai), Outstanding Artistic Award Huang Teng San (Hou Kong Premier School Affiliated to Hou Kong Middle School), Silver Award Mok Ho I (Colégio de Santa Rosa de Lima - Secção Chinesa), Bronze Award Chan Hio Mei (Escola Tong Nam Secondary School) and Online Popularity Award Mak Chon Hou. There were also awarded 30 Merit Awards. The artworks can be seen at https://www.facebook.com/ceslasia.ltd.
CESL Asia Kid's Drawing Contest is part of CESL Asia Social Investment Initiative (CSII) that actively invests in local talent development and other activities that contribute to a more sustainable and inclusive community. The Group's pioneering vision "How to Grow a City" is its inspiration and its quest in the pursuit of sustainable solutions that improve the economy and the quality of life of all citizens. Sustainability is embedded in CESL Asia's Architecture and Urban Planning consulting services that focus on efficient construction and innovative green solutions for buildings and urban space design, as well as, in its Facilities Management services that actively promote the implementation of environmentally friendly Operations and Maintenance solutions. It is also present in its investment strategy in renewable energy and in sustainable food and agriculture.
We extend our sincere gratitude to the Macao Youth Art Association for co-organizing, and, to all our partners and sponsors (listed in no particular order): Banco Nacional Ultramarino, Bank of China Macau Branch, McDonald's Macau, PricewaterhouseCoopers, University of Saint Joseph, Jornal Tribuna de Macau and Macau Daily Times, that contributed to the success of this initiative.