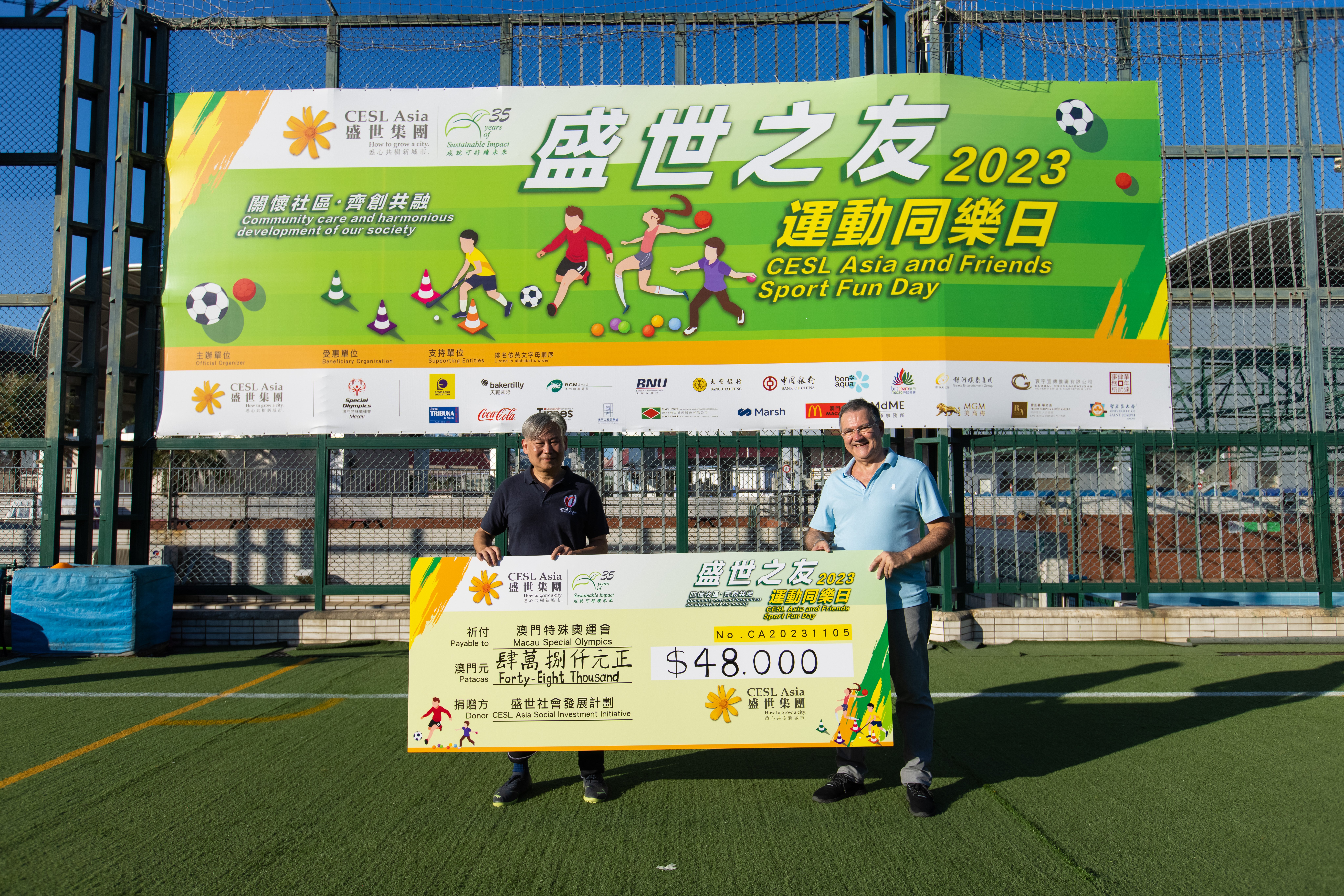 CESL Asia and Friends Sport Fun Day 2023 was once again an inspiring celebration of diversity and inclusion. Held at the Macau Federation of Trade Unions Workers Stadium, the event, now in its 7th edition, bringing together 22 entities and over 200 participants, raised MOP 125,000 in donations for the Macau Special Olympics (MSO) to support their outstanding sport educational programs.
As CESL Asia celebrates its 35th anniversary, the organization reiterates its dedication to maintaining an enduring partnership with MSO, with the aim of ensuring the sustained growth and advancement of inclusivity in our city.
CESL Asia and Friends Sport Fun Day 2023 showcased thrilling football and bocce tournaments, where teams from various collaborating entities and organizations competed alongside MSO athletes. The atmosphere was filled with skillful performances, enthusiasm, and a profound sense of camaraderie. The event provided invaluable insights into overcoming challenges, building confidence, and had a transformative impact.
The "Corporate Football Tournament" crowned the team from "MGM" as champions, while the "Golden Cup and Silver Plate Corporate Inclusive Bocce Tournament" was secured by the teams from "MdME Lawyers" and "Banco Nacional Ultramarino". All participants received well-deserved recognition for their outstanding performances and exceptional sportsmanship.
MSO athletes were introduced to new sports activities through the new Atom Education Floorball and Handball Trial Zone. The athletes had the unique opportunity to experience floorball and handball trainings alongside professional players, broadening their horizons and nurturing their passion for sports.
The influence of CESL Asia Sport Fun Day extends far beyond the playing field. CESL Asia's President and CEO, Mr. António Trindade, expressed his satisfaction, stating: "This remarkable day has left an indelible mark on our dedicated employees, engaged partners, and grateful MSO families. It sparks a powerful transformation, challenging boundaries, fostering empathy, and nurturing well-being for all involved."
This event is part of CESL Asia Social Investment Initiative (CSII), its annual impact investment program that supports Executive Leadership Development, Sustainable Cities Development, Education, Inclusion, Healthy Lifestyles, and Innovation. Over the past 20 years, CSII has consistently contributed to growing a better city and thriving community together with like-minded partners.
Our heartfelt appreciation goes to all who contributed to the success of "CESL Asia and Friends Sport Fun Day 2023," including: Atom Education, Baker Tilly Macao Certified Public Accountants, Banco Comercial de Macau, Banco Nacional Ultramarino, Banco Tai Fung, Bank of China, Bonaqua Mineralized Water, British Chamber of Commerce in Macao, Galaxy Entertainment Group, Global Communications Advertising & Marketing Ltd., JNV – Lawyers and Notaries, Jornal Tribuna Macau, Macau Coca-Cola Beverage Co., Ltd., Macau Daily Times, Macau Institution of Engineers, Macauport - Sociedade de Administração de Portos, S.A., Marsh Insurance Brokers (Macao), Limited, McDonald's Macau, MdME Lawyers, MGM, Pedro Redinha & João Varela Lawyers & Private Notary and University of Saint Joseph (listed in alphabetical order).
Together, we grow a more inclusive and prosperous Macau, where everyone is valued, and dreams come to life.